Become a Truestory host
Partner with Truestory to grow your experience business
Become a Truestory host
Partner with Truestory to grow your experience business
Are we missing your experience at Truestory?
Become a Truestory host and reach new customers.
We will market your experience and brand to our customers who are already looking for their next experience together in Denmark, Norway or Sweden. 
You can become a Truestory host if you offer experiences or if you have a great idea for a new experience that you would like to get up and running.
On this page you can read everything you need to know about being a part of Truestory's unique selection of experiences and hosts.
Do you want to get started?
Click the button below, and we will contact you for a chat about getting your experience on Truestory.
"It was a wild, beautiful, and overwhelming experience I will never forget."
– Susanne, a Truestory customer in 2021
What are the benefits for a Truestory host?
As a host your main focus is to create and host great experiences for your customers. But to reach them and make everything run smoothly you also need a good booking system, awesome marketing and great customer service.
That's where Truestory can help.
Being a Truestory host lets you focus on your experiences –  we'll take care of the rest.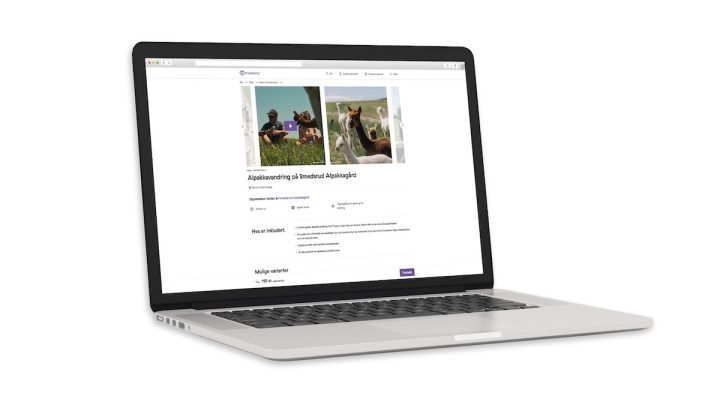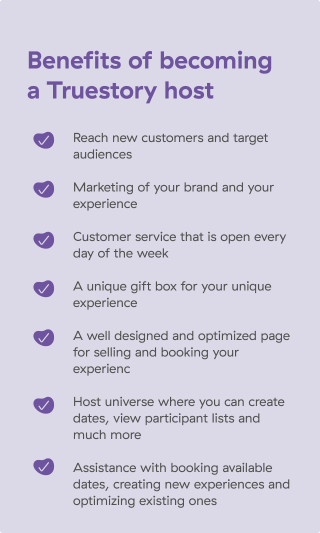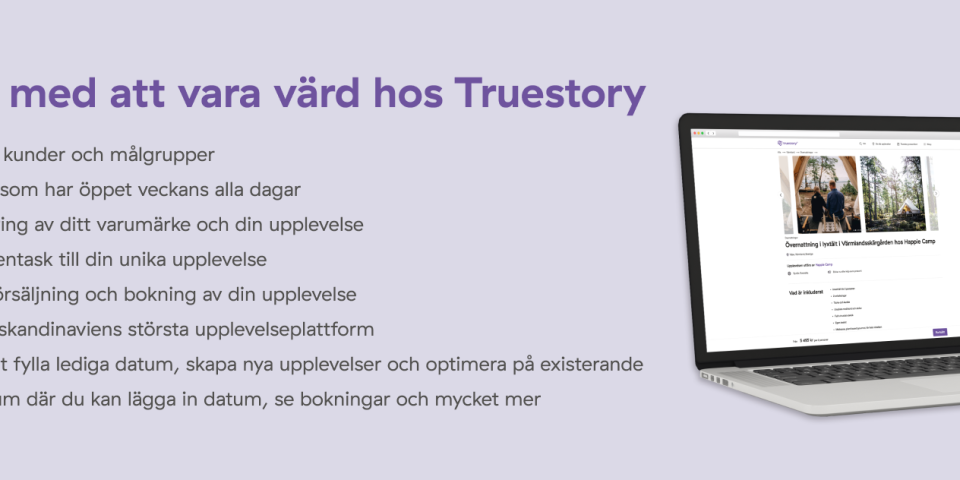 It doesn't require a lot of steps before you're ready to become a Truestory host.
Click below and fill out the form and we'll get in touch with you to find out if your experience will be next to go live on Truestory.
"Many different types of experiences. Easy and smooth to order."
– Stine, a Truestory customer in 2022
Our hosts are very important. In fact they are our heroes. Therefore it's important for us that the process of becoming a Truestory host is easy to navigate.
After the collaboration agreement has been signed we will work with you to get your experience live on Truestory. As soon as it's live customers can buy and book your experience. And last, but not least, you will receive a payment for sold experiences monthly.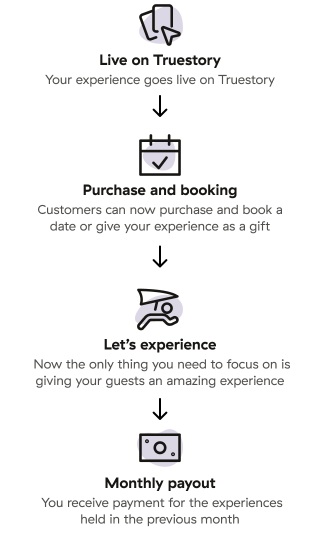 "I just want to compliment you on the fantastic gift I ordered. Truly elegant."
– Bente, a Truestory customer, 2021
What is a Truestory host?
A Truestory host is a passionate enthusiast or a unique place that loves to create great experiences for others.
An experience can be anything from staying overnight in beautiful cabins to wine tasting at the local vineyard. We are looking for all kinds of experiences – big and small.
The important thing is that the experiences are authentic and have a story to tell.
You can meet some of our current hosts in Denmark, Sweden, and Norway below.
We always put the host front and center. When a guest purchases your experience, it's because they want to visit you and your place.
Do you want to create new experiences?
You don't need an existing experience to work with Truestory. In fact we would love to help you develop great ideas into great experiences. We can help with things like packaging and pricing and share our knowledge to create unique experiences together.
In 2020, we worked with Jens Hedevang in Denmark to create a memorable experience.

Meet him in the video below. 
Jens was already a Truestory host, providing outdoor experiences in Thyborøn. However, in 2020, he had a new idea. Jens wanted to create an experience that involved a Puch Maxi. In collaboration with Truestory, the experience 'Guided Puch Maxi Tour with Maxitours' was created. It turned out to be very popular and is often sold out.
"I can definitely recommend
Truestory. I've only had good experiences with them."
– Gitte, a Truestory customer, 2022
Truestory is the place where people meet to find, share, and create experiences together.
Truestory was born in 2012 under the name DuGlemmerDetAldrig in Denmark. Now, we sell experiences in Norway, Sweden, and Denmark and have over 250,000 visitors on our platforms every month.
Our goal is to get more people to experience things together.
Do you want to be part of the journey as a Truestory host?
You can read more about us here.
Feel free to contact us if you have any questions.
We would love to speak with you.
Get in touch with one of us on LinkedIn by clicking on our pictures below or send us an email at [email protected].
We look forward to hearing from you.
Do you want to know more?